Pete Logan Scholarship Award
In 1998, the Fairport Wrestling Booster Club instituted a new award in the name of Coach Pete Logan. This award will be presented annually to the Fairport senior wrestler that has exhibited the qualities of dedication, integrity, hard work, and sportsmanship throughout his career that Pete Logan symbolized as a wrestling coach.
The Booster Club will also provide a scholarship check to the award winner in the amount of his senior wrestling scholarship award. The name of each winner will be prominently displayed on a perpetual plaque in the Wrestling display case.
Coach Pete Logan has served the Fairport district and community for over 30 years as a physical education teacher and coach. From 1965 to 1998, Coach Logan has been an inspiration to countless students and athletes and has served as a wonderful mentor and role model to countless teachers who have had the opportunity to work with him.
Pete's commitment to a sound mind and body are exemplified in his interactions with others, his dedication to physical fitness and academic excellence, as well as in his love for the Fairport community. Coach expects the best of himself, while helping others to strive to their fullest potential.
Pete taught Physical Education at Martha Brown and coached wrestling at Fairport for 32 years. He was the varsity wrestling coach for 29 years, starting in 1965-66, through 1993-94. He coached the Modified wrestling team for 3 years from 1995-96, through 1997-98. He also coached football and track for many years in the Fairport district.
He graduated from Spencerport High School and Brockport State where he lettered in football, wrestling, and track. He earned his masters degree from Springfield College. Coach has been instrumental in starting the "Huddle Groups" in the middle schools and has won the prestigious "Crystal Apple" Award at Martha Brown. and he has also won the Dave Martens Coaching Honor.
Coach would like to be remembered as a hard working person who enjoyed seeing students succeed.
Pete Logan Award Winners
2000 Steve McElvain (189)
1999 Chad Cullen (275)
1998 Dave Fingler (160/171)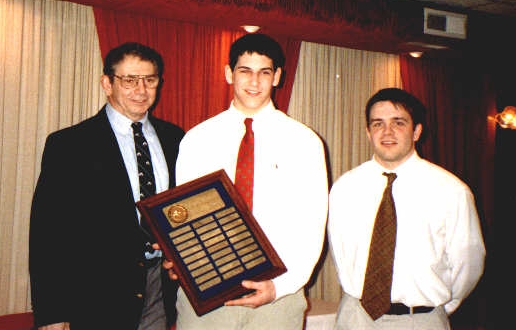 Dave Fingler receives the 1st Pete Logan Award from Coach Pete Logan (l) and Coach Craig Kaper (r)